The flowchart starts with a digital marketing strategy and the channel that might be used for implementing it. These channels consist of the website, email, social media platforms, and partner networks. The components of the website include: the demonstration of the product/service, its features and benefits, email collection window, and "contact us" form. The components of email channel type are company updates, 'how-tos' and tips on service/product usage, promotions, discounts, and special offers. The components of social media platforms are product and company updates, industry news, and product/service visuals. The components of the last channel type, partner networks are affiliate programs, partnerships with influencers, and reseller programs.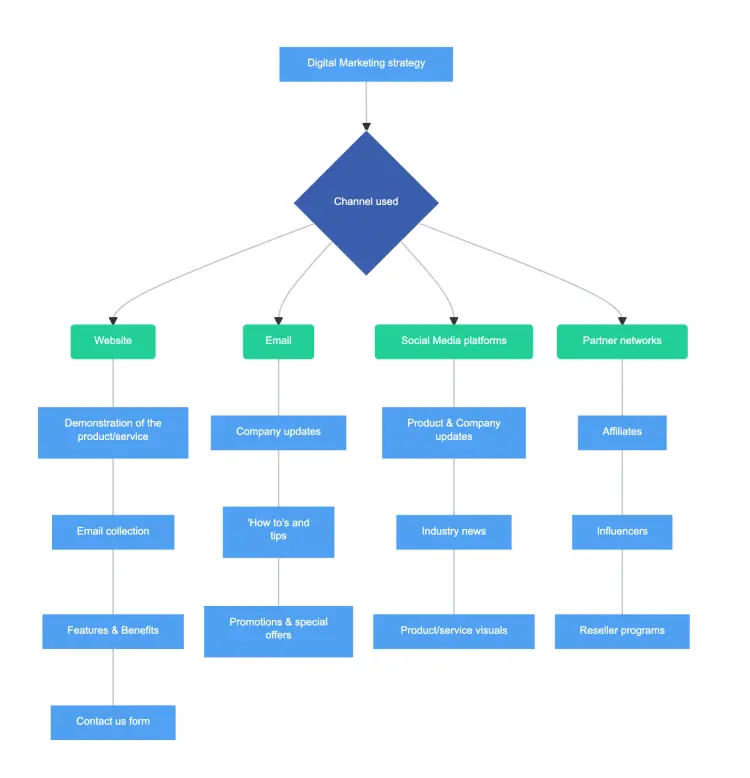 Performance marketing strategy diagram code in Gleek
Digital Marketing strategy
Digital Marketing strategy–>Channel used:diamond
Channel used–>Website:class
Website–Demonstration of the product/service
Demonstration of the product/service–Email collection
Email collection–Features & Benefits
Features & Benefits–Contact us form
Channel used–>Email:class
Email–Company updates
Company updates–'How to's and tips
'How to's and tips–Promotions & special offers
Channel used–>Social Media platforms:class
Social Media platforms–Product & Company updates
Product & Company updates–Industry news
Industry news–Product/service visuals
Channel used–>Partner networks:class
Partner networks–Affiliates
Affiliates–Influencers
Influencers–Reseller programs
About Flowcharts
A flowchart, or flow chart, is a type of diagram that shows a step-by-step view of a process. Flowcharts document the tasks and decisions needed to achieve a specific goal. A basic flowchart is easy to make and understand. Businesses, engineers and software designers often use flowcharts to diagram their ideas.
Similar flowchart examples
Google ads remarketing process flowchart