At Gleek, we're all about pushing boundaries and enabling our users to create and visualize diagrams in the most efficient, precise, and functional way possible. As an online AI-powered diagramming tool, we've reshaped the diagramming landscape, allowing developers, students, and teachers to generate informal, class, sequence, and entity-relationship diagrams using only their keyboards. Now, we're excited to take this innovation to the next level with Gleek Features Release Vol. 2 and this is what it means.
1 AI Chat: The next-generation diagram creation
The AI Chat feature is the latest and by far the most exciting innovation in Gleek. This feature takes your prompts and swiftly transforms them into ready-to-use diagrams. Whether you're working on Entity-Relationship diagrams, Sequence diagrams, Class diagrams, or Flowcharts, the AI Chat has you covered.
But the benefits of Gleek's AI Chat extend beyond speed and efficiency. It's about boosting your productivity and giving you more time to focus on what truly matters. You can further customize these AI-generated diagrams in code mode, ensuring every detail aligns with your vision.
Collaboration is made effortless, too. Share your AI-generated diagrams and their corresponding prompts with colleagues to promote a seamless exchange of ideas and insights. With Gleek's AI Chat, you're embracing the future of diagramming.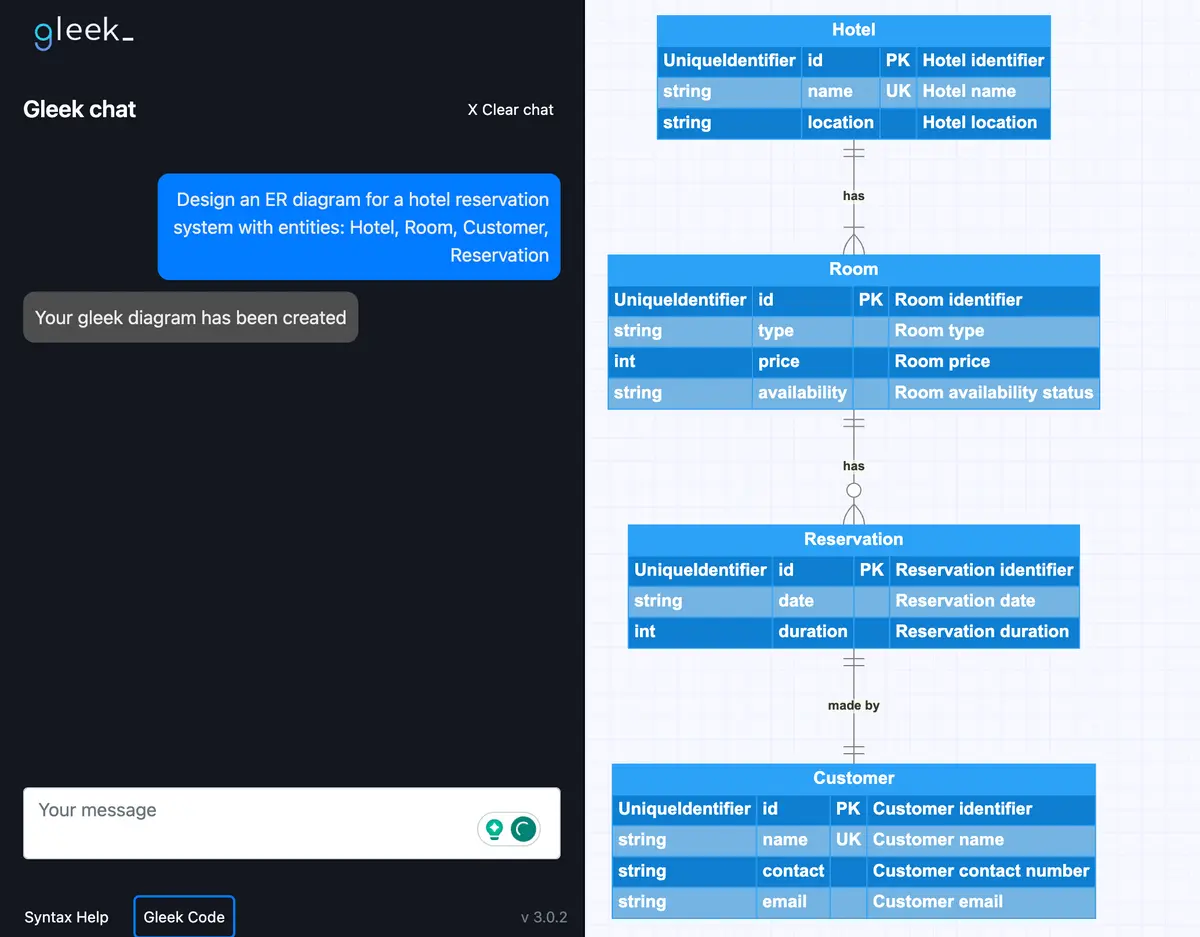 Get the bigger perspective on this feature in Gleek's AI Chat - A Deep Dive into the Future of Diagramming article.
2 Team Plan: Streamlined collaboration and invoicing
The Gleek Team Plan is tailored for groups of 2 or more users who wish to collaborate effectively within the Gleek app. This plan streamlines the process of upgrading user accounts and provides access to premium features.
The Team Plan Owner manages the subscription and invites team members to join the plan. When team members accept the invitation, their accounts are automatically upgraded to the Team Plan, granting them access to premium features too.
Only the Team Plan Owner holds the exclusive power to remove specific users from the plan and replace them with new members. They also have the flexibility to modify the entire subscription as needed, adjusting the number of seats available in the plan to accommodate team size changes.

3 Per Activity Plan: New flexible billing
The Per Activity premium plan offers a distinctive billing structure that adapts to your engagement with the app. When you opt for this plan, you make an initial pre-payment, opening up premium features for your usage.
Your charges for the upcoming months depend on your monthly activity. If your usage drops, charges are paused until your next interaction. So for example, if you were active in the first month, there will be a charge for the second month to ensure continuous premium access as long as you stay active. However, if you don't use the app in the second month, charges for subsequent months will be paused until your next interaction.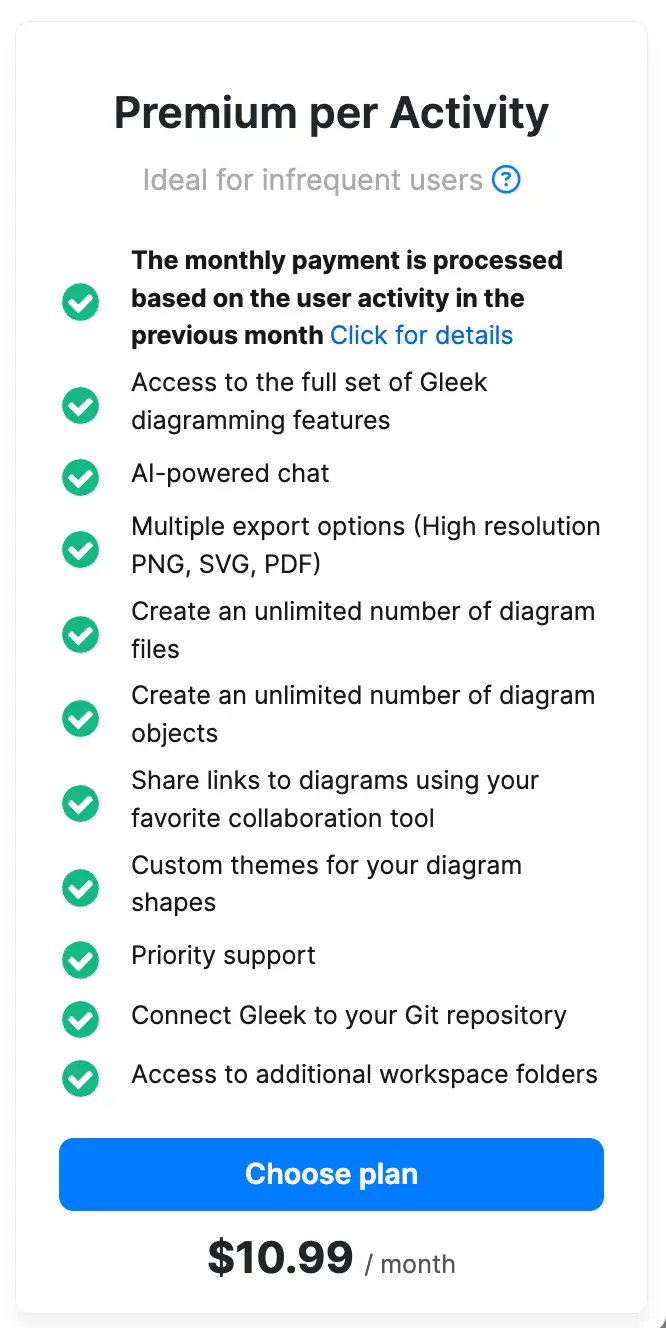 To learn more about this plan, check out our detailed article: Gleek's Per Activity Premium Plan: A New Approach to Efficient Diagramming
4 In-app Notifications: Always stay informed
Our new in-app Notifications feature ensures you never miss out on any exciting updates, new features, or exclusive discounts. From alerts on new feature releases to announcements about special discounts, this feature keeps you informed about all the developments within the app.
Notifications are tailored based on your activity and preferences, providing insights, tips, and recommendations for optimizing diagram creation and collaboration. As a user, you'll always be up-to-date with the newest features and improvements and be alerted whenever cost-saving opportunities are available.

5 Deleted Folder: Your safety net for diagrams
With the Deleted Folder feature, we're adding an extra layer of data protection. If you accidentally delete a diagram, it moves to the Deleted Folder instead of being permanently erased, preventing irreversible data loss. Diagrams in the Deleted Folder are retained for around 30 days, giving you ample time to restore them to their original location.
The Deleted Folder acts as a safety net, ensuring that important diagrams are not lost forever due to unintentional actions. You can take your time to review and restore diagrams without immediate pressure.
To wrap up, Gleek Features Release Vol. 2 introduces a set of innovative and user-oriented enhancements designed to maximize your diagramming experience. Whether it's leveraging the power of AI in our latest feature, the AI Chat, enjoying the flexible billing of the Per Activity plan, enhancing team collaboration through the Team Plan, staying informed with the timely Notifications feature, or securing your data with the Deleted Folder, Gleek continues its commitment to redefine the diagramming landscape with efficiency, clarity, and precision.