Effective and precise diagramming is no longer a luxury—it's a necessity. We introduce the new Gleek, an online AI-powered tool that has reinvented diagramming by enabling users to generate informal, class, sequence, or entity-relationship diagrams using only their keyboard. Ideal for developers, students, and teachers alike, Gleek offers a mouse-free diagramming experience that prioritizes speed, clarity, and precision.
Today, we're excited to introduce the Gleek Team Plan, crafted to provide groups of 2 or more users with seamless collaboration at affordable rates.
Diagramming tool tailored for teams
The Gleek Team Plan has been designed with the needs of teams in mind. It's perfect for any group of 2 or more users who want to collaborate effectively using Gleek and share their outputs. Whether you're a software development team working on a complex project or a group of students brainstorming for a class assignment, the Gleek Team Plan provides you with the tools you need for enhanced productivity.
Gleek's streamlined subscription process
The subscription process for the Gleek Team Plan is straightforward and efficient. The user who initiates the subscription becomes the "Team Plan Owner," responsible for managing the subscription and inviting team members to join via email.
Inviting team members to join the plan is simple. Once the payment process is complete, the Team Plan Owner is redirected to the Gleek app. From there, they navigate to the "User Management" section accessible through the Profile sidebar, where they can add team members by entering their emails and sending out invitations.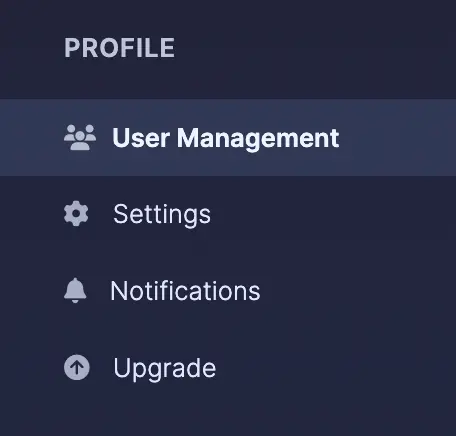 Instant access to Gleek's premium features
Once team members accept the invitation, their accounts are automatically upgraded to the Team Plan, granting them instant access to Gleek's premium features, including the new AI chat feature. These advanced tools and functionalities enhance collaboration and boost productivity within the app.
You can choose between a monthly or yearly subscription based on your team's preferences. The Team Plan Owner could be, for example, a senior software engineer inviting team members to collaborate on a new project outlines, or a professor who wants to teach students diagramming.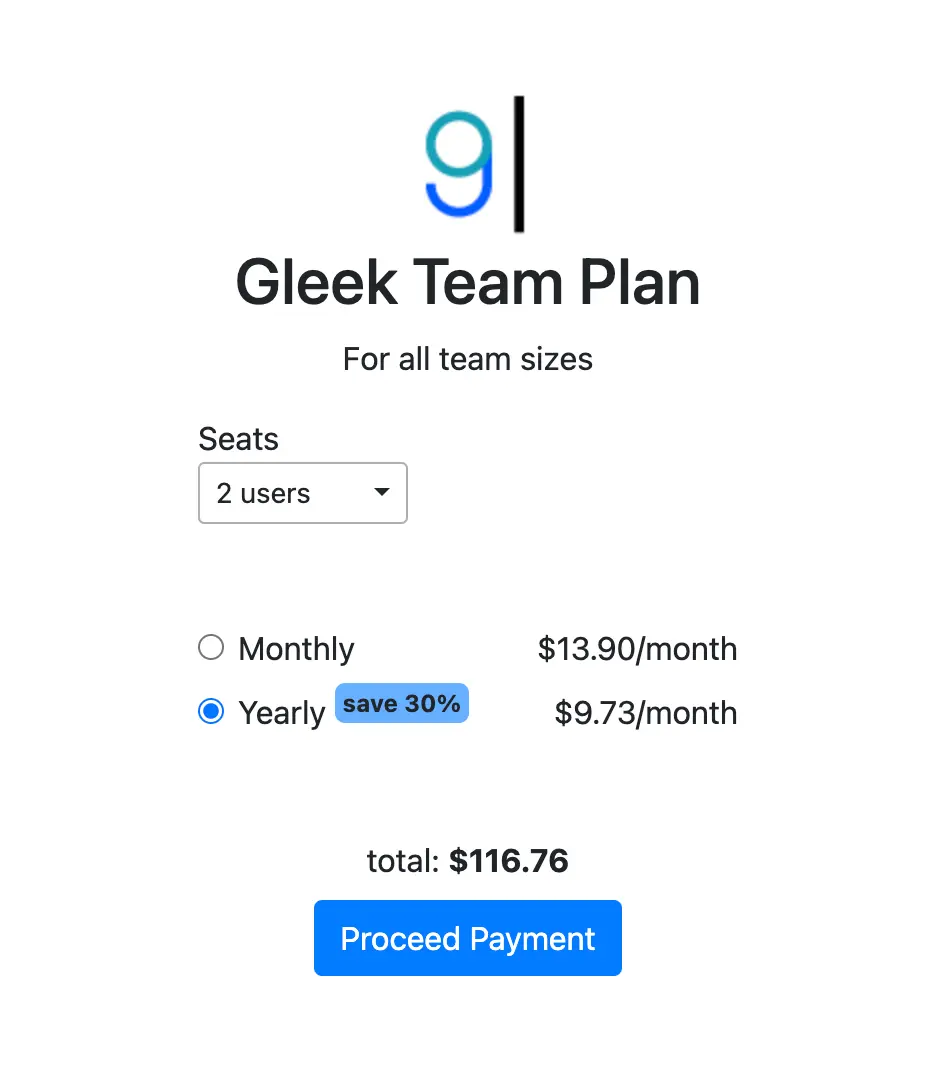 Special note for Team Plan owners
It's important to clarify that the Team Plan Owner's account remains free and separate from the Team Plan by default. If the Team Plan Owner wishes to upgrade their individual account, they must follow the same process as adding other team members. In other words, the Team Plan Owner must invite themselves to the plan and accept the invitation to upgrade their account.

Team members added under the Team Plan cannot modify or manage their subscriptions individually. As the Team Plan Owner, you maintain full control over the subscription. You alone have the authority to adjust the number of seats in the plan, remove specific users, or even cancel the entire subscription if necessary. This level of control allows you to adapt the plan to your team's evolving needs.

Simplified company billing thanks to Invoicing
For companies, the Gleek Team Plan offers a crucial advantage – a single, consolidated invoice. This means that all subscription expenses are recorded in one clear statement. This streamlined approach makes expense tracking and accounting much easier, saving time and reducing administrative work.
Having a single invoice also promotes transparency within the organization. It allows for better resource allocation, cost assessment, and budget planning. This efficient billing method reflects Gleek's commitment to enhancing teamwork and administrative workflows, making the Gleek Team Plan an ideal choice for businesses aiming for both collaborative excellence and effective financial management.
Start diagramming efficiently with your team
The Gleek Team Plan brings the power of efficient, keyboard-centric and AI-powered diagramming to your team. With its easy subscription process, simple invitation system, and instant access to premium features such as Gleek's AI chat, the Team Plan is ready to elevate your team's collaboration and productivity to new heights. Experience the future of diagramming today with the Gleek .
Curious about an individual Premium plan? Take a look at our blog about the Per Activity Premium plan – it could be something you are looking for.